Welcome to our newest students and members.
Welcome Tracey
Tracey Chapman has joined the team. Her official role is Training Manager but she's been helping with memberships as well while Debra is on extended sick leave.
Tracey has got great experience working with registered training providers and is going to be working with students who have been with us for too long to get your courses finished! Use the Contact Us button below to send a message through to Tracey
September was above average compared to previous years for enrolments on our FDR course with students from a variety of backgrounds with pre-requisites for enrolment including Law, Psychology and NMAS Accreditation. 
We have new students who are working with government funded services as well as the new Aboriginal FDR program being funded by the Attorney Generals Department as a closing the gap initiative plus some students who are self-funding their education. 
We've also had some completions in September. Congratulations: 
– Fiona Hussin from Legal Aid NT
– Kirsty Lewis-Fox from South Australia 
– Sharron Duncan from Queensland. Sharron took the very slow track but got there in the end!  You hold the record for the longest time to complete so far.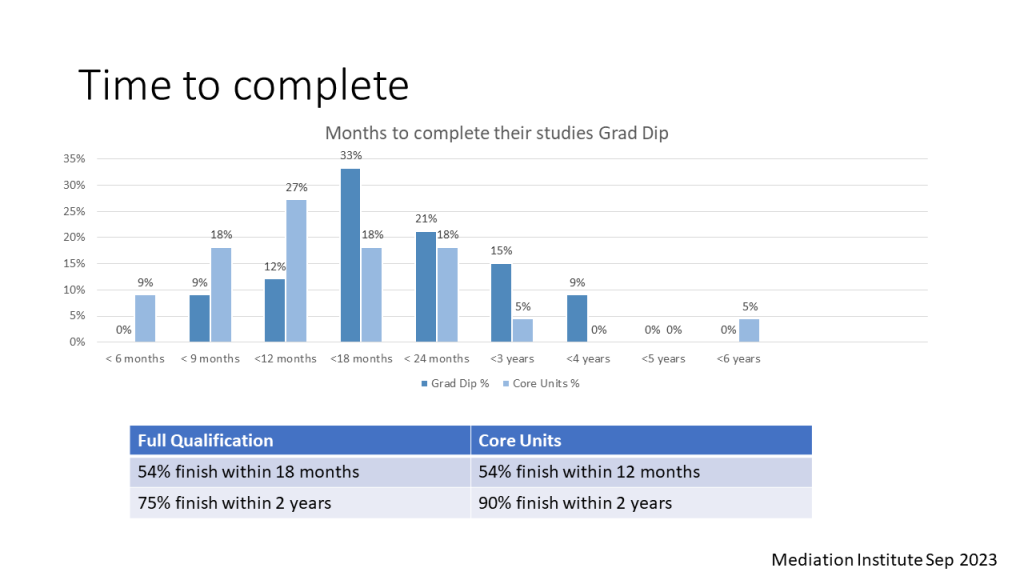 September was also above average compared to previous years for enrolments on our NMAS course.  I'm not sure if the proposed changes to the NMAS system, including an increase in the mandatory minimum number of hours of training is a driver for that. 
Another impact from the changes will be a reduction in the time you have to complete the training from 24 months down to 6 months. There will be a teach out period so to avoid the rush why not get on and finish your training this month? 
The changes to the system are open for consultation currently – visit the Mediator Standards Board website to find out more about what is proposed. NMAS Review (msb.org.au)
Congratulations to the students who completed this month.  Some have gone on to the FDR course while others are intending on working in other areas as a mediator. 
If you have not made it to one of the live sessions I'm running or one of the other MSB board members are running there is a recording of an overview of the proposed changes here – Goodbye NMAS, Hello AMDRAS (mediationinstitute.edu.au) 
I'm really pleased to see that the Family Group Conference course which has it's workshops scheduled for the 23rd, 24th and 30th October is going to have a good group of participants. This is the last course of the year so if this is a skill set you want to add please visit the page about it to find out more. 
   Family Group Conference Facilitator Training | Mediation Institute
Transformative Relationship Mediation Course
This course  has been fairly quiet of late with fewer people taking the course. We're not sure whether the busy end of the year has taken people's focus off professional development training. 
If you are interested in learning more about how to use your mediators skills to assist people to re-negotiate their relationship rules find out more about our TRM course.
Transformative Relationship Mediation Training | Mediation Institute
Conflict Management for One Course
We've restructured the Conflict Management for One and made it more modular. You can do the course for a much lower fee as a self-paced online learning and then participate in our normal monthly group supervision or purchase supervision sessions with the trainer and process developer John Cleary.  
Find out more about the changes here – Conflict Management For One | Mediation Institute
 Welcome to our newest and renewing members.  There are some changes coming so make sure that you keep an eye on updates. 
One of the big changes is regarding the Dispute Resolution Agency. 
We'll be making use of the platform to manage our membership directory with additional benefits you can make use of as you would like. 
You don't have to have a public profile if that is not appropriate for you. But you'll be able to use the platform to keep track of your professional development and more. 
Listing on the agency is free – Information for Providers | The Dispute Resolution Agency 
If you want additional business development support or Done For You services then you pay for that which we think  is fair enough.