Transformative Relationship Mediation
This course will expand your skills as a professional mediator to give you skills and confidence in transformative relationship mediation. The course fee includes all training and assessment delivered online.
What is Transformative Relationship Mediation?
Transformative Relationship Mediation is a specialisation for NMAS Accredited Mediators and Family Dispute Resolution Practitioners. 
The process is a transformative style where the focus is on facilitating communication and negotiation of interpersonal relationship issues and problems that may be less specific and more relational. 
Clients are often couples who are experiencing difficulties in their relationships leading to difficulties that may lead to separation and divorce unless resolved.
The issues may relate to any aspect of their relationship such as money, children, work, sharing of responsibilities, extended families or intimacy.  Regardless of the source of the conflict the issue that is most affecting their relationship is an inability to discuss, negotiate and resolve their issues.
That is where transformative relationship mediation comes in to help them to transform their relationship dynamic and overcome the challenges they are experiencing. 
Transformative work can be done with parents and older children, adult siblings, housemates and even in the workplace.
This course is for professional mediators. In order to enrol you must be a NMAS Accredited Mediator or Accredited Family Dispute Resolution Practitioner.
This course expands on the skills of facilitative mediation and is not designed for people who do not already have evidence of skills as a mediator.
This course is for people who want to explore the potential of mediation to help people to re-negotiate their relationship rules and strengthen their relationship.
Delivery Model
Mediation Institute provides this training and assessment through online learning.
You can undertake the course and be assessed for certification from anywhere in Australia (or the world).
The course is self-paced allowing you to complete the course at your preferred pace.
Theory is learnt via online learning which includes recorded and live webinars discussing different aspects of the skills and knowledge you require to be a transformative mediator.
Skills development is facilitated by live mentored video mediation role plays with other students. You will be mentored by a certified Transformative Mediator.
 Course Duration
The course is self-paced and how long it takes from enrollment to certification is up to you.
This includes twelve hours of live video role plays and the remaining course time of 32 hours is made up of self-paced online learning and webinars. 
A minimum of two (2) of those role plays must be with you undertaking the role of the mediator.

You can participate in as many role plays as a role player as you would like during the course, subject to availability.
You have six months to complete the course although could complete it in as little as two weeks if you had the time to do it that intensively, subject to role player availability.  More usually is one to three months.
Request the Course Guide
Use this form to request a copy of our course guide.
The guide contains the course information in an easy to read PDF Format. 
The training team for our Transformative Relationship Mediation course all have experience working with couples to improve their relationship dynamics.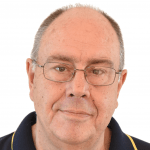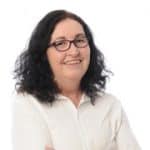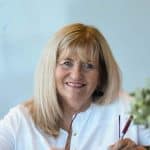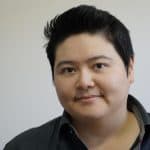 I would like to recommend the Transformative Relationship Mediation process as a way of resolving conflict. If both parties agree to commit to finding a solution to their conflict, then this process offers away forward counselling can't. It is future focused but gives each party an opportunity to express their grievances. The skills of the Mediators provide a process that is respectful and supportive of both parties. Ken and Cynthia, our mediators were able to assist in bringing reconciliation between myself in a family member after a Will dispute. I am very grateful to Ken and Cynthia and can highly recommend the Transformative Relationship Mediation process. -- Susan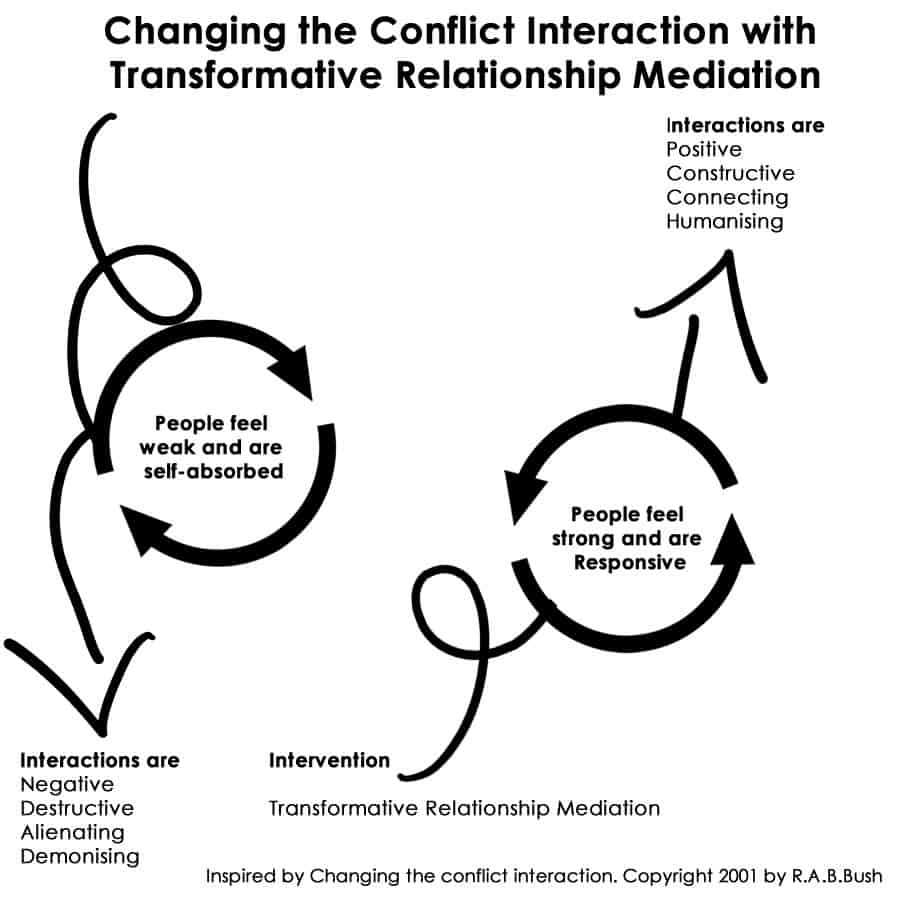 Fully online
The course is delivered online but that doesn't mean you learn alone. There are webinars, online role plays and discussions to help you to integrate what you are learning about this style of mediation
Skills development
Practice new approaches to facilitating interpersonal negotiation between couples using the transformative model. Role plays are fun, supportive and focused on professional development and skills enhancement.
Immediate Start
Our flexible delivery model means you can start straight away and move through the course at your own pace. Book in for role plays and watch recorded webinars if you can't wait for the live ones.
Flexible Support
We work with you to help you with your goals. Talk to us about the way you want to use the process. Our team is always available to provide mentoring and support for learners in business development as well as professional skills.
Learn from Mediation Institute because we are the mediation training specialists.
Members Rate. Transformative Relationship Mediation
Training, Assessment and Certification
Up to 6 months to complete the 32 hours of learning required

Learn theory through self-paced eLearning, webinar tutorials and a comprehensive manual

participate in live mentored role plays (video mediation)
Transformative Relationship Mediation Non-Members
Training, Assessment and Certification
Up to 6 months to complete the 32 hours of learning required

Learn theory through self-paced eLearning, webinar tutorials and a comprehensive manual

participate in live mentored role plays (video mediation)
Frequently Asked Questions
Is this course for Family Dispute Resolution?
No. The Transformative Relationship Mediation course is to teach you the skills to help couples to avoid separation rather than help them to separate amicably.
As it doesn't cover family law issues it is suitable for people who are NMAS Mediator Trained as well as for people who are already Family Dispute Resolution Practitioners.
Are there payment options?
Absolutely. If you would like a payment plan just let us know what would work for you.
In all ways we can we aim to be flexible so invite our students to propose a payment plan that will work for them rather than us dictating it in advance.
Just be aware that you will have to finish paying for the course before your assessment and certificate of Assessment is issued.
Don't you train this in the NMAS or the FDR Course?
No.
The NMAS Course is a basic mediation skills course along the lines of facilitative mediation.
The FDR course goes much deeper into issues of family law, family violence and teaches how to help parents to establish and review parenting plans, negotiate property settlements etc. In our course it also teaches post-separation parenting coaching.
This is a unique course for a unique style of mediation.
What if I fail my Assessment?
If we don't think that you are ready for your assessment or if you fail we will provide you with an intensive coaching session to help you to overcome the skills gaps you have.
We take responsibility for our training and understand that a set skills development schedule of 9 role plays  is not going to work for every learner. In the standard course design you have the opportunity for two practice role plays before your assessment and the ability to participate in at least six role plays as a role player. 
What if I don't want to do video mediation?
We don't have any public workshops scheduled for the course and at the moment that is not possible.
If you are unwilling to participate in video mediation role plays this isn't the right course for you. 
If you are unsure and want to check it out we'd be happy to allow you to come along as an observer.
Where can I find out more about the course?
The best way to find out more about the course is to ring our Director of Applied Learning Ken Speakman.
Ken is one of  the course creators and will answer any questions that you have about any aspect of the course. He will be happy to help you to work out if the learning method is right for you and also answer any questions you have about transformative relationship mediation.
You can call Ken on his work mobile 0404 072330
If you are nervous about the video mediation or unsure if your internet connection or computer are able to cope we can arrange for a video meeting to find out.
Learn from Mediation Institute
The mediation training specialists.