We've reviewed and simplified the options regarding NMAS Training and Assessment to make it easier to understand.
If you are new to mediation you need to do the full NMAS Training and Assessment Course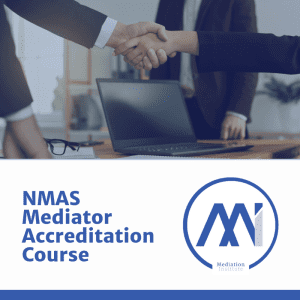 The Mi NMAS Mediator Training and Assessment Course includes all training and assessment. You do not have to pay an extra fee for assessment and we offer additional mentoring and re-assessment at no extra cost.
The course is delivered fully online using flexible eLearning and video mediation role-plays.
Enrol and get started today! No delay to get started and learn at your own pace.
The course will take about 40 hours to complete and includes a minimum of 9 role-plays but you can participate in more role plays as an observer or role player.
Read More »
If you have been trained in NMAS Mediation in the past 24 months but have not been assessed for accreditation you can apply to be assessed. This is done as an online mediation role play.
If you do your NMAS training with Mediation Institute the assessment is included in the course fee.