Updated 5th April 2022

The Main NMAS Review Survey has now been completed with 585 responses. The results are currently being studied. 

A report will go to the Mediator Standards Board about the 30th June 2022 in preparation for the next step.
Meanwhile …
The first of four reports has been produced from the NMAS Review based on the Effectiveness Survey Reports. Some of the key findings are highlighted below but you can download the 44 page report here to read it fully for yourself – https://nmasreview.com.au/effectiveness-survey
What was the NMAS Effectiveness Survey?
NMAS EFFECTIVENESS SURVEY – From February 1 to April 1, 2021, a select group of stakeholders was invited to complete the Effectiveness Survey as part of the review of the National Mediator Accreditation System (NMAS). Over 600 people participated in the survey. Once the data was cleaned (tidied up to remove duplicates, incomplete submission, etc.), there were 512 survey responses suitable for analysis.
The Effectiveness Survey was designed to collect preliminary information to establish a baseline of the perceived effectiveness of the NMAS. For the purpose of the survey, effectiveness was defined as the extent to which respondents perceived the NMAS Standards as helpful within a specified context. The NMAS Review 2020-21 Effectiveness Survey provides the results and analysis of the data collected.
How diverse are the respondents?
Diversity levels were very low, much lower than the Australian community with only 9% identifying as being from a culturally and linguistically diverse group and less than 2% being First Nations people. (29.8% of Australians were born overseas and 3.3% of the population are first nations people. ABS)
43% Male and 56% Female with little representation from gender diverse people.
What other qualifications do they have?
28% also hold Family dispute resolution qualifications / registration
11% were also conflict coaches
37% had a masters level qualification – the largest group of these were in law
Preliminary Recommendations
1. Develop and implement a diversity and inclusion strategy to promote greater representation within the mediation community.
2. Create mechanisms for members of diverse communities to locate and engage diverse mediators.
3. Conduct further research into the factors contributing to employment outcomes/equivalent practice opportunities for mediators to identify genuine pathways as a professional mediator across all career stages.
4. Liaise with mediators whose primary practice areas tend to offer the lowest number of mediations to ascertain satisfaction levels with these numbers or proportions.
5. Continue consideration of conciliation and FDRP as potential inclusions in the NMAS Review, with the view to long-term options for enhanced representation within the MSB.
6. Investigate ways to promote awareness of mediation and mediator knowledge and skills across non-law disciplines.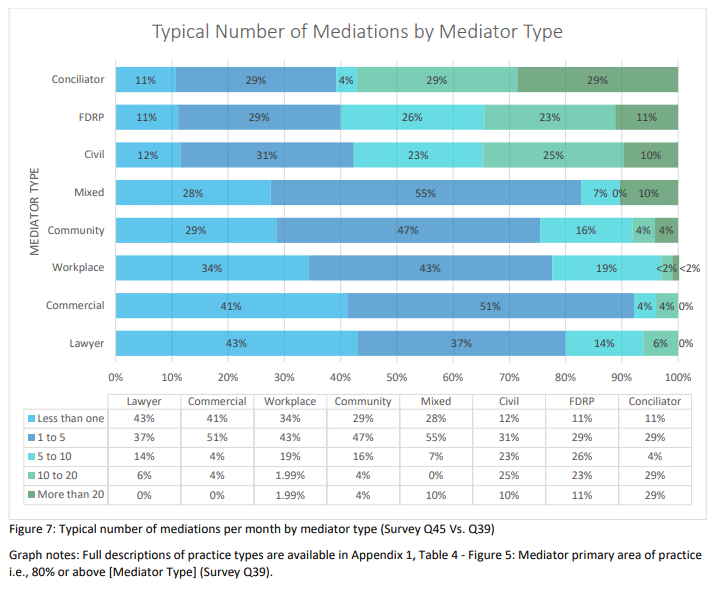 Other information provided in the report:
Mediators – majority mode of practice (pre COVID) 63% were face to face, 8% video conferencing, 9% phone and 20% a combination of modes.  There is a table identifying which type of mediator preferred which modes.
Specialisations – 92% didn't work with a specific group or demographic and the largest group for specialisation were with first nations people.
Subscribe to the NMAS Review Website for direct updates from them!


The website where information is shared from is https://nmasreview.com.au/
Previous Update from Mediation Institute 31.8.2020
In a press release on the 31st August 2020 the Mediators Standards Board (MSB) announced that Resolution Resources has been awarded the contract to review the National Mediator Accreditation System (NMAS).
The NMAS sets the professional standards for the training and assessment of mediators throughout Australia. Accreditation as a mediator is administered by Recognised Mediator Accreditation Bodies (RMABs).
Mediation Institute is one of the 25 organisations in Australia offering training to NMAS Standards and one of the 19 organisations that offer both training and assessment and are also a Recognised Mediator Accreditation Body. We will be engaging in the review process as actively as we are permitted and keep our members updated with opportunities to engage when, as it appears, the team from Resolution Resources will open up opportunities for wider consultation.
If you would like to find out more about training with Mediation Institute visit our NMAS Course page.
An evidence-based review process
We wish Danielle Hutchinson and Emma-May Litchfield of Resolution Resources all the best in the review and consultation process and hope that it will result in greater clarity in some of the ambiguously drafted clauses in the current version of the NMAS. The team at Resolution Resources say they are excited to be offered the opportunity to lead this very important work. "It provides the chance for us to introduce an evidence based approach to reviewing the NMAS standards that is well established in other disciplines, yet only in its early stages of application in dispute resolution."
We are excited to see what their interpretation of an evidence-based approach to our industry will be. Bianca Keys says, "Mediation and associated processes are now firmly part of the rich fabric of our society. We must ensure that benchmarks for the training and best practice of mediators evolve and reflect the changing times and include some prefiguring of what is to happen in the future. By engaging independent professionals with advanced research and consultative experience, we hope to build a solid evidence-based approach to this crucial system."
That sounds all very exciting and something we encourage you to engage with when the opportunities arise. We know that there has been a mass forced digitization for some in the industry and definitely don't want a post-COVID backlash to muddy the water with regards to the benefits of harnessing modern technology to facilitate mediation in the 21st Century. From the press release, it appears like the MSB has it's collective eyes firmly fixed on the future with a solid base of evidence of what works. 
If you haven't read the NMAS since you completed your training now might be a good time to review it and consider what you think could be clearer, or improved in the current version. You can download the NMAS here.
The NMAS was established in 2008 and had it's first review in 2015. The MSB press release indicates "With the developing nature of this relatively new profession, the MSB has chosen to revise the accreditation system over the next 12 months to ensure it maintains relevance and keeps up with the pace of change."
MSB National Chairperson Ms Bianca Keys stated "The review does not equate to a rewrite. Rather, it is designed to address some interpretive, drafting, and operational issues that our members have pointed out in an ongoing series of consultations."