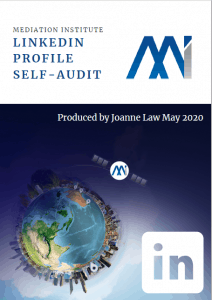 This sixteen page document gives you a framework for a full audit of your LinkedIn profile.
The tool is designed to help you get clear on:
how you see yourself professionally,
how you want to use LinkedIn to help others to share that view of yourself
what your current profile says about you and
how to improve that!
LinkedIn is one of the most powerful tools we currently have for establishing our professional credentials and profile.
It is public, allows people to comment and share and is business focused.
If you are fearful or ignoring LinkedIn we encourage you to consider why. If you are acting in a professional and ethical manner in all your dealings there is no reason not to make use of this tool.
You can download the tool from the Main Mastermind Group in the Mi Members area on our learning management system.