Overview
Sharron Duncan is a NMAS Accredited Mediator, Family Group Conference Facilitator, New Ways for Families Coach and Child Contact Supervisor. She is currently completing her Graduate Diploma of Family Dispute Resolution in preparation for becoming a Family Dispute Resolution Practitioner.

She is based in the D'Aguilar area of QLD

You can use the form below to get in touch.
Send an email to this member
Qualifications and Accreditations
NMAS Accredited Mediator
Family Group Conference Facilitator
New Ways for Families Coach
More information
Sharron runs a professional practice in Qld – Peace of Mind Supervised contact centre. Sharron and her team help children from separated families to establish or maintain a relationship with the parent or significant other* they do not live with, where appropriate. Sharron is currently studying Family Dispute Resolution.
Update on events on the 26th August. One for Family Dispute Resolution Practitioners and one for Family Group Conference Facilitators.
Read More »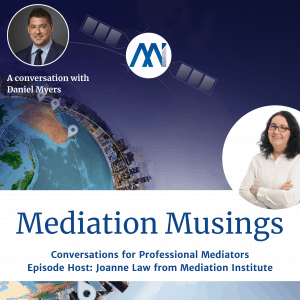 Daniel Myers is a family lawyer and mediator based in Melbourne. In this episode of Mediator Musings he talks about the journey literally and in terms of his knowledge that has brought him to where he is today.
Read More »
This guide has a step by step instruction for logging in and then a video to tell you what to do once you get there.
Read More »
---