Joanne Law is a nationally accredited mediator, new ways for families coach and family dispute resolution practitioner.
She provides her professional services as a mediator to those seeking help to resolve workplace disputes, community disputes and family dispute resolution.
She is skilled in video mediation and conducts most of her mediations via video mediation in order to provide services for those who have trouble accessing face to face mediation.
Update on events on the 26th August. One for Family Dispute Resolution Practitioners and one for Family Group Conference Facilitators.
Read More »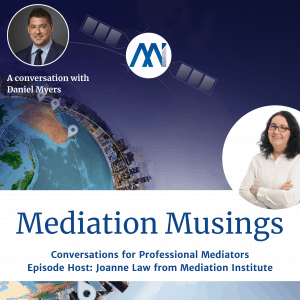 Daniel Myers is a family lawyer and mediator based in Melbourne. In this episode of Mediator Musings he talks about the journey literally and in terms of his knowledge that has brought him to where he is today.
Read More »
This guide has a step by step instruction for logging in and then a video to tell you what to do once you get there.
Read More »
---