Venita Dimos is a Nationally Accredited Mediator and Family Dispute Resolution Practitioner registered with the Attorney General's Department. She is the founder and Director of The Mediation Company Pty Ltd, a company established to assist disputing parties to resolve their conflict through Mediation. Venita is also a Certified Coach, specialising in conflict management skills for parents. She is on the Family Dispute Resolution Panel of Interact Support, a not-for-profit established to reduce and resolve family conflict. She is also an active Member of the Mediation Institute.
Overview
Venita Dimos is a Family Dispute Resolution Practitioner, NMAS Accredited Mediator and New Ways for Families Coach.

Venita works from several locations in and around Melbourne and surrounding areas. Offering video and face to face mediations. 

You can use the social media connections or form below to get in touch.
Send an email to this member
Qualifications and Accreditations
Family Dispute Resolution Practitioner
NMAS Accredited Mediator
Lawyer
New Ways for Families Coach
More information
Venita has been a lawyer since 1994, holding an LLB (Bachelor of Laws) since 1994 and BEc (Honours) (Bachelor of Economics) since 1992. She also holds a Post Graduate Diploma of Family Dispute Resolution and a Diploma of Financial Planning. She has had extensive experience in the legal industry, including holding senior positions in major Australian banking and financial institutions where she was responsible for advising, drafting and negotiating major corporate, information technology, banking and finance contracts in her role as a Senior Corporate Lawyer.
Update on events on the 26th August. One for Family Dispute Resolution Practitioners and one for Family Group Conference Facilitators.
Read More »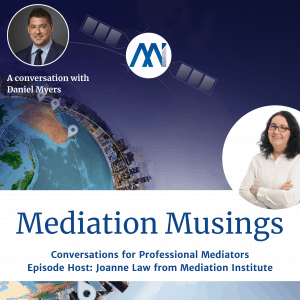 Daniel Myers is a family lawyer and mediator based in Melbourne. In this episode of Mediator Musings he talks about the journey literally and in terms of his knowledge that has brought him to where he is today.
Read More »
This guide has a step by step instruction for logging in and then a video to tell you what to do once you get there.
Read More »
---