Updated: Friday 13th March 2020
We are now officially in a global pandemic, Australians are being told not to travel overseas, bans on entries are being applied to flights from other countries. Sporting events and cultural and community events are being cancelled.
Life as we know it is being abruptly interupted, at least for a time. We hope that the severity of the illnesses associated with the virus can be managed and the vulnerable in our community survive. Realistically we know that not all will.
What changes are you making to your day to day activities? Or are you waiting to see?
Most Mediation Institute training, in fact all but one of our training courses, is delivered online with skills development via video meeting. We're working to get approval for an adjustment to that one to avoid the need for a workshop.
Many of our members work in face to face environments where the chance of contagion is high. Are you prepared?
TED and TEDx
I am also a TEDx organiser with our youth event in March and major event for the year scheduled for May 2020. TED has postponed their annual event and many other event organisers are postponing or cancelling their public events.
How to prepare and respond?
McKinsey & Company have produced an excellent article on the implications for business that we encourage you to read.
https://www.mckinsey.com/business-functions/risk/our-insights/covid-19-implications-for-business
On the 24th February 2020 the COVID-19 Corona virus reached an inflection point where there were more identified cases of the virus outside China than in China for the first time.
By 29th February 2020 it was reported in 54 countries including Australia.
By the 13th March 2020 it has reached 129 countries.
WorldMeter of Corona Virus
https://www.worldometers.info/coronavirus/
In terms of your action plan there are seven steps to consider:
Protect your team members / employees / attendees / customers – be informed about how the virus spreads and make the necessary changes.
Don't shake hands or kiss acquaintances. Wash your hands with soap and water frequently especially before and after eating. If you don't have access to soap and water use a hand sanitiser. Monitor the news and other reliable sources of information about any further precautions needed. Share information with your people so that they understand any changes in social interaction that are necessary precautions. As mediators, we know that the best way to overcome problems is by communicating and problem-solving. Let's make sure we are leaders in that.
Set up a cross-functional COVID-19 response team – if your business works directly with the public make sure that you have a team ready to respond. How would you manage if the government shut down schools or child care facilities? How many staff would be affected? What if they said we have to stop public gatherings? What if someone with the virus has visited your workplace or one of your team has contracted it and the whole team are put in quarantine? Thinking through how to respond will help to prevent panic or decisions that could increase the risk to people. What's the plan. What's the goal for the week. Focus on decisions and output not having meetings for the sake of it.
Ensure that liquidity is sufficient to weather the storm – how would you cope financially if you can't work due to illness or restrictions imposed by the virus or the government response to the virus? Do you have alternative sources of income? Do you have sufficient savings? If now what can you do to prepare? What about your business? Can it stay afloat if you had to shut for 14 days or more for quarantine? Are there any areas where you can reduce risk? Do you need to talk to your bank? How will you know if there is an issue on the horizon with regards to cashflow?
Stabilize the supply chain. – Do you have enough toilet paper? We've already seen what panic buying is leading to with shortages in toilet paper and other basic supplies missing from the supermarket shelves. Is there anything you buy out of China or other countries deeply affected? Where does your printer ink and paper come from? What other supplies that you need for your business might be affected.
Stay close to your team members / employees / attendees / customers. Let your staff know you are thinking about them. If you are considering making changes to anything let them know. Involve them in decision making as much as is possible/appropriate but don't abdicate your role as a leader. In China there was a dramatic shift to online shopping. It is likely that customers who make the shift to sourcing goods and services online may continue to enjoy the convenience once things stabilise. For those of you who are already skilled in Video Mediation have you made it a feature in your service delivery options? If you are not confident providing video mediation / video meeting services do our Video Meeting Facilitation Course.
Practice the plan. Just like a fire plan or a safety plan, there will be parts of your plan you can practice. What's the drill if someone in your team or a customer is identified as being infected? How quickly could you contact everyone? How easy can you communicate what they have to do? If you have a shopfront do you keep track of all customers? Would there be people you couldn't contact? If you can't make your plan work in a simulation or working through each step in a conversation it's certainly not going to work in real life with unplanned variables thrown in. Your plan should identify who makes what decisions, what the triggers are and as much detail about what to do as you can with the information available. Update and review as part of your response team.
Demonstrate purpose. Businesses are part of their communities and we depend on each other. How can you help to support your community? What skills or services could help. Video meeting facilitation is one that is a no brainer for those of us with the skills. As mediators, we provide the safety of someone who will maintain confidentiality even when we are aware of highly confidential and potentially harmful information from a commercial or consumer confidence point of view. What about the vulnerable in your community? What help do they need? Will they need if things do develop into major disruptions for your community
Thanks to the authors of the McKinsey & Company Article Matt Craven is a partner in McKinsey's Silicon Valley office. Linda Liu is a partner in the New York office, where Matt Wilson is a senior partner. Mihir Mysore is a partner in the Houston office for providing focus for this article for dispute resolution professionals. Here's the original article again. https://www.mckinsey.com/business-functions/risk/our-insights/covid-19-implications-for-business
This Government Website is a good source of information https://www.health.gov.au/news/health-alerts/novel-coronavirus-2019-ncov-health-alert
Video Meeting Facilitation Skills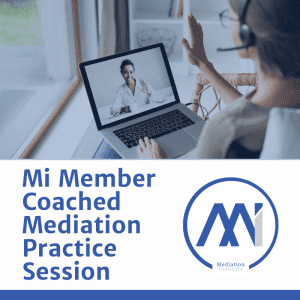 Practice Development and Marketing Web Meeting. This is a recurrent event with sessions every month throughout the year helping to work on your business.
Read More »
The Video Meeting Facilitation Orientation and tutorial webinar is an opportunty to meet online to practice your skills and ask any questions you have.
Read More »