Child Contact Supervision Service Provider Membership
What is proposed

Child contact supervision services are currently unregulated and variable. Some services are provided by organisations with government funding subsidising their services. They are often overwhelmed by the demand and have long waiting lists and limited duration services. Consequently a secondary market of private service provider organisations or individual practitioners has grown up to try to meet the need for professional supervision of contact between children and a parent who has been accused or convicted of family violence. 
Most of these providers have previously worked for a government funded service or have appropriate experience and skills however there is no way for members of the public to determine this. Consequently Mediation Institute is establishing a member category for Child Contact Supervisors.

What are the membership options?
In the case of child contact supervision we are planning three membership categories.
Volunteer Supervisors who are usually family members or friends who are not paid to provide the service. Membership will be low cost and provide guidelines and guidance to deal with potential issues.
Child Contact Supervisor Membership for professional supervisors who are paid for their supervision. To be eligible supervisors must have completed the appropriate units of competence for child supervision work or be eligible for recognition of prior learning.
Child Contact Supervision Agency Membership which may be for a sole trader supervisor or organisations who employ or contract supervisors.
We are currently putting the membership package together and would like to invite those with an interest in the area to contribute to a survey.
Child Contact Services Membership Survey
General Information
Mediation Institute is making changes to our jobs board and encourage members looking for Jobs in Mediation to set up a search with Jora
Read More »
Update on events on the 26th August. One for Family Dispute Resolution Practitioners and one for Family Group Conference Facilitators.
Read More »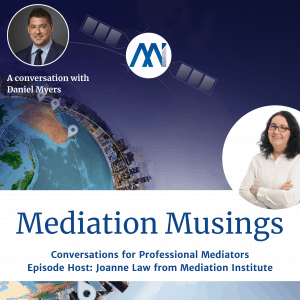 General Information
Daniel Myers is a family lawyer and mediator based in Melbourne. In this episode of Mediator Musings he talks about the journey literally and in terms of his knowledge that has brought him to where he is today.
Read More »