Do you have a Mediators CV or Resume?
I was recently contacted by a law firm looking for a mediator. They had been ordered to mediation by a court that they had tried to get a judgement from on a commercial matter.
I tried to do a referral to the client by reaching out to members in the Mi Members Facebook group who were in the location. 
If you are a Mi Member and especially if you are accepting clients you should be in this group.  
https://www.facebook.com/groups/mi.member/
Don't make it hard to refer you! 
If you are open to Mediation work then you are perfectly placed to collaborate with Mediation Institute to achieve that goal.
We want you to be successful! We want you to be out there providing high quality, appropriate dispute resolution (ADR) services in your communities.
That is why we founded Mediation Institute in 2013. We wanted to improve access to mediation training and we wanted to strengthen the use of the facilitative mediation model.  We were and are concerned about the creeping trend of evaluative mediation, where based on a very short time and inadequate information, mediators attempt to play judge. If someone needs a determination because they are incapable of sorting it out themselves even with the assistance of a mediator, we would encourage court or arbitration.  Not so much the horse trading style of negotiation used in some of the lawyer assisted, shuttle style mediation that is happening.  We think that is happening due to ignorance about the benefits of empowering clients to make their own decisions and mediators who do not educate their lawyer clients for fear that they won't get the job.
In most cases people don't need someone else to decide the outcome for them. The people affected by the dispute are the ones most qualified to work out what will work after the mediation. After all they are the ones that have to live with the outcome.
That's not to say that people can always work out their issues without independent assistance. The nature of conflict almost certainly guarantees that people need some assistance to gain clarity on the issues and consider alternative resolutions to the ones they have proposed and are fighting over.  Resolving disputes in mediation provides the opportunity for well prepared and supported disputants to work it out in a way that makes sense to them.  End of rant. 
What I wanted to talk about is how hard members are making it for us to refer clients to you. This is an almost universal problem.
Case in point have a look at your profile on our site. Is it out of date? Does it have a photo? Can you be contacted in the way you want to be? If not let us know and give us the information to make a fabulous profile for you.  Contact Us
What do you need to get established?
If you have just trained or even if you have been qualified for a while, if you are not referring off cases that you don't have time for, you have scope to improve your marketing of your mediation practice.
Mediation is predominately a referral business. That said we encourage you to make yourself visible to direct enquiries by having a website and a professional social media presence. 
LinkedIn is absolutely critical.  We've done webinars in the past that you should be able to access through the practice development group in the members course area. There is a LinkedIn self-audit tool we've provided that will help you to review and improve your LinkedIn presence.
  https://mi.study247.online/courses/9
Facebook perhaps. If you are offering relationship mediation or family dispute resolution or commercial mediation or community mediation or workplace mediation … Actually a facebook page where you share content related to your primary niche for your practice would be a really good idea.  Not essential but a great way for you to focus your thoughts on the disputes in your area of focus and speak directly with potential clients. 
Mediators CV. Come on guys! Why do I even need to tell you this?
With this job enquiry I had I couldn't get a properly prepared Mediators CV from anyone without them having to go off and prepare one and take a few days to do it. Too late!
As an independent mediator you are on the hunt for work all the time.  You need to be ready to indicate your availability for any suitable opportunity. To throw your hat into the ring. Your Mediators CV is your hat!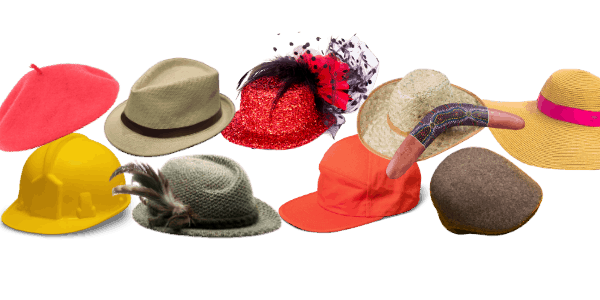 Much like if you are hunting for a job (because you are hunting for a job) you need a tailored CV for each type of mediation. 
You wouldn't send a CV highlighting your Family Dispute Resolution work for a commercial mediation job.  Likewise you wouldn't send a CV highlighting your Workplace Mediation work for a Family Dispute Resolution job.
Both would have the same qualifications and experience on them but the free text would be related specifically to the context of the job.
You need to speak to the people considering you as their mediator through the words on the page.  You could even have a link to an audio or video file that speaks to them literally if you wanted to be very persuasive.
Features of a good Mediators CV
Is it attractive?  You want it to attract the job so make your CV attractive. You want it professional but that doesn't mean that it can't have a bit of colour and personality to stand out if they are considering a choice list of three mediators.
Is it short? One page, double sided at the most is all you want with the second side links to your booking page to schedule a meeting or your fees page to provide that information.  This is not one of the old style resumes with a paragraph or two on each job you've ever had. 
Is it relevant? Your qualifications to be a mediator are essential. Other relevant qualifications are important. Dot pointed work history if it is relevant. The rest of the space is for how they can contact you, your LinkedIn profile link so they can check you out some more if they want to.  What did I tell you about getting your LinkedIn profile up to a professional standard. They will check you out if they are seriously considering you for the job in most cases.
Does it show that you understand their problem? When you are marketing and make no mistake, your Mediators CV is a marketing document, you need to show the client that you understand their problem.  One person (a person considering mediating with you as the mediator) One problem (the type of dispute they have) One process (how you will help them).  Think about who you are writing the CV for. Write to them and only them.  Tell them what you will bring to the dispute resolution process. 
Is it ready? Can you email it off at short notice? Better yet have you provided it to us for your Mi Profile so a client browsing themselves can download it and give it to the other side as the suggested mediator?  
Having an attractive CV is an important part of standing out and part of the process of educating clients that mediation isn't a commodity service. It is a professional service where the professional you work with matters in terms of the process you will participate in and the outcomes you may get. 
Of course your CV has to be honest about your qualification and experience but if you include a sense of your approach to the work it will help you avoid being culled for the work that is your sweet spot.  You really don't want clients and cases that are poorly suited to your approach to mediation. That is hard and unsatisfying work. Focus on the work you want and being attractive to your ideal client demographic. Think about that.  Remember that in providing a professional service your limit is the number of hour you want to make available to provide the service. 
How can you use your CV to help you filter for the types of clients you want in your practice?
The reality is that in the initial stage of any recruitment process is culling the applications. A scrappy, boring, poorly formatted CV or worse yet no CV might be all it takes for you to end up in the reject pile of potential mediators.
Here is one I prepared earlier.  I use Calendly for my appointments so I have put in a page with links to book in with me.  I am focusing on FDR work in this one and would need another CV to provide if I was pitching my hat into the ring for other types of mediation work.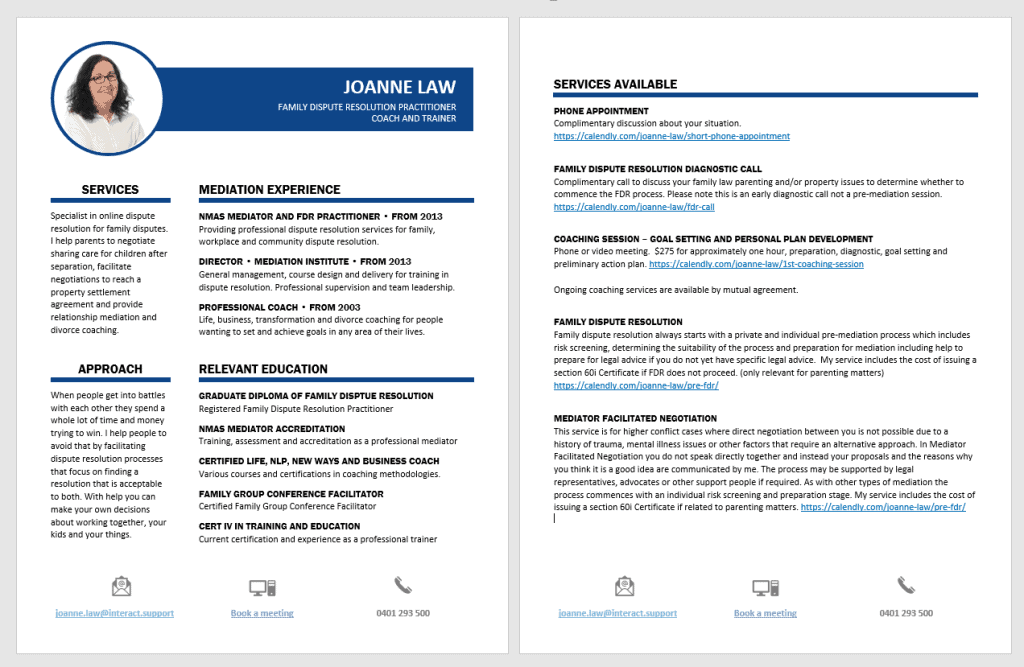 Below is an example of the way I would vary my FDR CV to be appropriate for the sort of workplace dispute resolution I am interested in assisting in. 

This is my secondary specialisation that draws on my background in process improvement and behaviour change work. It is the sort of work that involves teams in conflict partially because of personalities and interpersonal issues.  When multiple people are impacted it is likely that there is an element to the dispute related to poorly designed systems and processes and a lack of alignment around a mission and values that creates never ending sources of conflict between individuals and departments. That is the sort of non-FDR dispute resolution work I will make the time in my busy schedule to assist with.  I want to communicate in my CV and any other communications. 

Other work I can refer through to members who make it easy for me to know what work you want and how to refer you!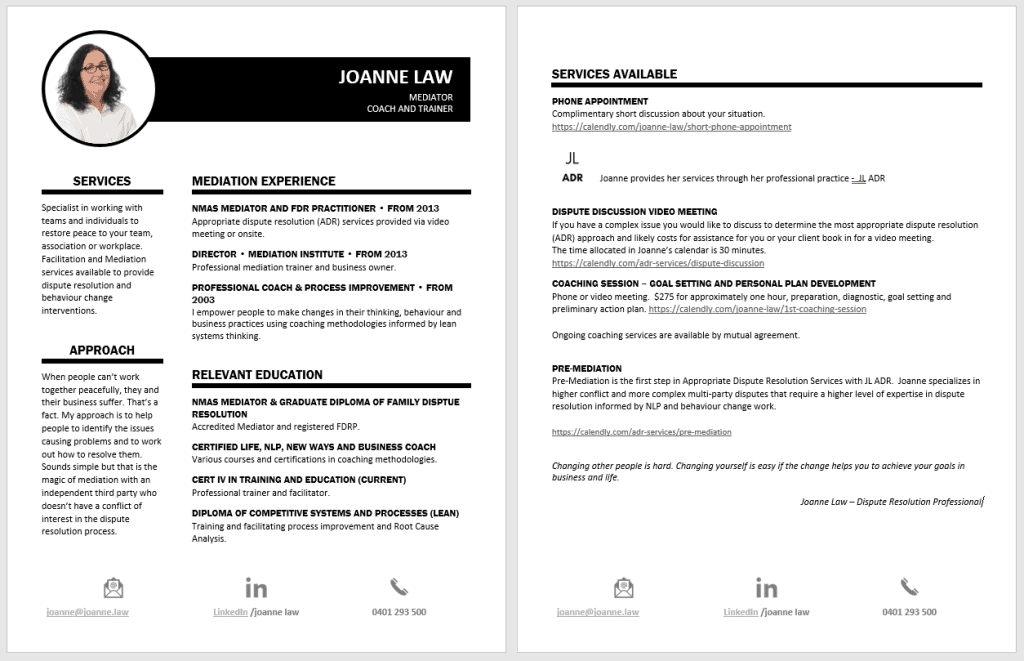 How to use your Mediators CV
Don't leave home without it! Well at least if you go to a networking event or similar.
Don't hand it out to people who are not interested but be open to opportunities. You never know when you will be speaking with someone who knows someone who needs help with the type of dispute resolution you do.
If you have handy your one page resume it is a lot more effective than just handing over a business card, especially if it has a bit of personality and looks great.
Fold it and keep it in some sort of protective sleeve or envelope so it doesn't get tatty.
Use it in a folder with your Agreement to Mediate and referral process documents if you are having a meeting with a potential referrer.  Putting your information in a folder is great as most other professionals won't through a folder in the bin and it is likely to go on a shelf ready for when they have a need. 
If you are doing these sorts of meetings make sure you ask lots of questions about their business and the sorts of clients that would be good referrals from you to them.  As a professional mediator you should be building a detailed referral list to be able to help your clients with how to locate the other services they need to get out of the problems they are experiencing. 
Remember Mediation is an intervention where people can develop a plan to resolve their problem. They will probably need legal advice, they may need emotional or psychological assistance, they may need help with valuing or selling assets, they may need help understanding tax implications and other consequences of decisions. All the professionals who provide those services could be referrers for your business and could also refer clients to you. 
Resume Making Tools
Are you using the excuse that you don't know how to format anything other than a plain text document?  Sorry that won't cut it. 
Microsoft Office
The office suite has some great free templates available. If you don't have the latest version of office get in touch as we can provide our members and students with free access to the latest version of the Microsoft tools through our Office 365 education Subscription.  Contact Us and request an @mediationinstitute.edu.au email address.
How to use Microsoft templates
Open Microsoft Word
Click on New
Type in CV or Resume in the Search for online templates search box
Click on one that you like on the examples that come up. A pop up for a better view will happen when you click.

If you click and then don't like the template just click on the cross on the top right to close the pop up.
Click the Create button on the pop up when you find one you like.

Microsoft will download the Resume and you can change the templated information for your own.
There is even a Resume Assistant powered by LinkedIn available to assist with that. 
See what I mean? There really is no excuse that holds water for not having a Mediators CV or three if you practice across various specialities.
Canva
If you don't like Microsoft for some inexplicable reason you could also consider using Canva to create your CV.
Canva is an amazing tool, created by an Australian who wanted a tool like that so she made it.  A bit like Fiona Kirkman and
FamilyProperty which has nothing to do with CV's
but is an example of someone wanting a tool to improve the process for Property FDR and having the foresight to marry an IT superpower who worked with her to make it. 
Canva is to graphic design what FamilyProperty is to Property FDR.  It makes it so much easier!
If you are not using Canva check it out. I still think word is the best tool for making your CV document but there are some really good CV example templates on Canva as well. 
www.canva.com
It's free for basic access but we use a pro version which has, as far as I can tell, an almost unlimited library of relevant templates, stock images, video and icons.
If you use a different tool that you recommend let us know and we'll update this post.
Jobs
There are many jobs for mediators out there, especially for Family Dispute Resolution Practitioners or in dispute resolution roles in businesses and tribunals that we are not posting them on our jobs archive tool.  We use that mainly for panels and opportunities to speak at conferences etc.  You can get to it from a link on the menu or click here – Job Archive
If you are looking for employment as a mediator we suggest you use the Jora job search engine.  It trawls Seek so you get those jobs but also some of the website jobs with the government and tribunals that may not be listed on Seek. 
Interact Online
Mediation Institute was instrumental in the foundation of Interact Support Incorporated.
Interact is a social enterprise style not-for-profit established initially in 2015 to provide family dispute resolution services to ensure that our CHC81115 – Graduate Diploma of Family Dispute Resolution students would have easy access to internship places when the requirements of the qualification changed to 50 hours of on the job internship.
On the 1st July 2020 services were expanded to any type of dispute and Interact Support launched Interact Online. It is a national, online dispute diagnostic and dispute resolution service. Services are provided by volunteer and contractor NMAS mediators and family dispute resolution practitioners. 
It is a co-mediation model to provide opportunities for new mediators and FDRP's to be able to build their experience in a way that is supported for them and clients. 
If you are interested in finding out more please visit https://interact.support/join-interact-online/
You will be expected to have a Mediators CV as part of the onboarding process.