Mediation Institute uses a Learning Management System (LMS) called Canvas to guide students as you progress through your coursework.
This post is designed to help students to adjust your email preferences to avoid unnecessary emails from the Learning Management System but  still receive important notifications.
Log into the LMS
Log into Canvas – www.mi.instructure.com 
You will need your student login and password to proceed beyond this point.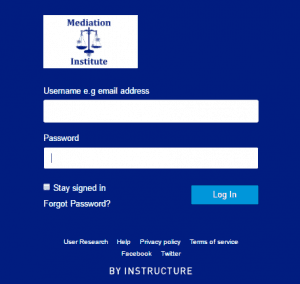 Click on Account
Your account is the first option below the Mediation Institute Logo.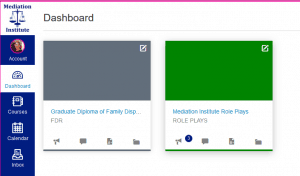 Did you know?
If you click on the logo from anywhere in the course it will bring you back to the dashboard.
Click on Notifications
When you click on Account an Account Menu will appear.  Click on Notifications to modify your notification settings.
In the Notification Settings you'll be able to decide how frequently you want automatic emails from the system or shut them off completely.
Notification Preferences
The first group of preferences relate to course activities.
Due dates and grading are not really important as the course is self-paced and competency based.
Course content and Files changes are made from time to time as we find ways to improve the course or add in additional resources. A weekly digest should be plenty to get an update on these types of changes.
Announcements are used for Role Play notifications and other changes and are often time sensitive so we recommend that you get them as soon as they are released.
If you create an announcement such as wanting to arrange a get together of students then you'd want responses straight away.
Grading changes sends out notifications of any change such as an instructor muting or unmuting a task and often doesn't relate to you at all so we recommend that you turn those notifications off.
We don't use invitations much at the moment but leave it on in case we do at a later date.
Submission Comments should be immediate or daily notification as that will let you know when an instructor works on one of your assignments.
 Discussions, Conversations and Scheduling
We recommend that you get a daily update on discussions but tick Conversations to get emails sent to you through the course immediately.
The scheduling relates to the calendar settings.
Student Appointment Signups and Appointment Availability are for faculty only so turn them off.
Appointment Signups and Cancellations and Calendar changes are probably best to be daily to avoid too many emails if we are working on the calendar and putting on a lot of new events at the same time.
Groups, Alerts and Conferences
Groups and Alerts are an administrative options (for course admins and trainers)  so turn them off.
Conferences are not being used at the moment (the built in webinar function) as we use Zoom so that students don't have to learn two systems.