Mediation Institute is happy to promote events run by other organisations that may be valuable to Mediation Institute Members.
Don't hesitate to contact us about your events (Mi Member discounts for paid events are encouraged).
This is a free service for Mediation Institute Members or relevant free events. If you are not a member and it is a paid event, we would encourage you to offer a MI Members discount.
Virtual Events
International Mediation Awareness Week Planning Meeting
05/09/2022 @ 6:00 pm

-

7:00 pm

AEST

Virtual Events

Free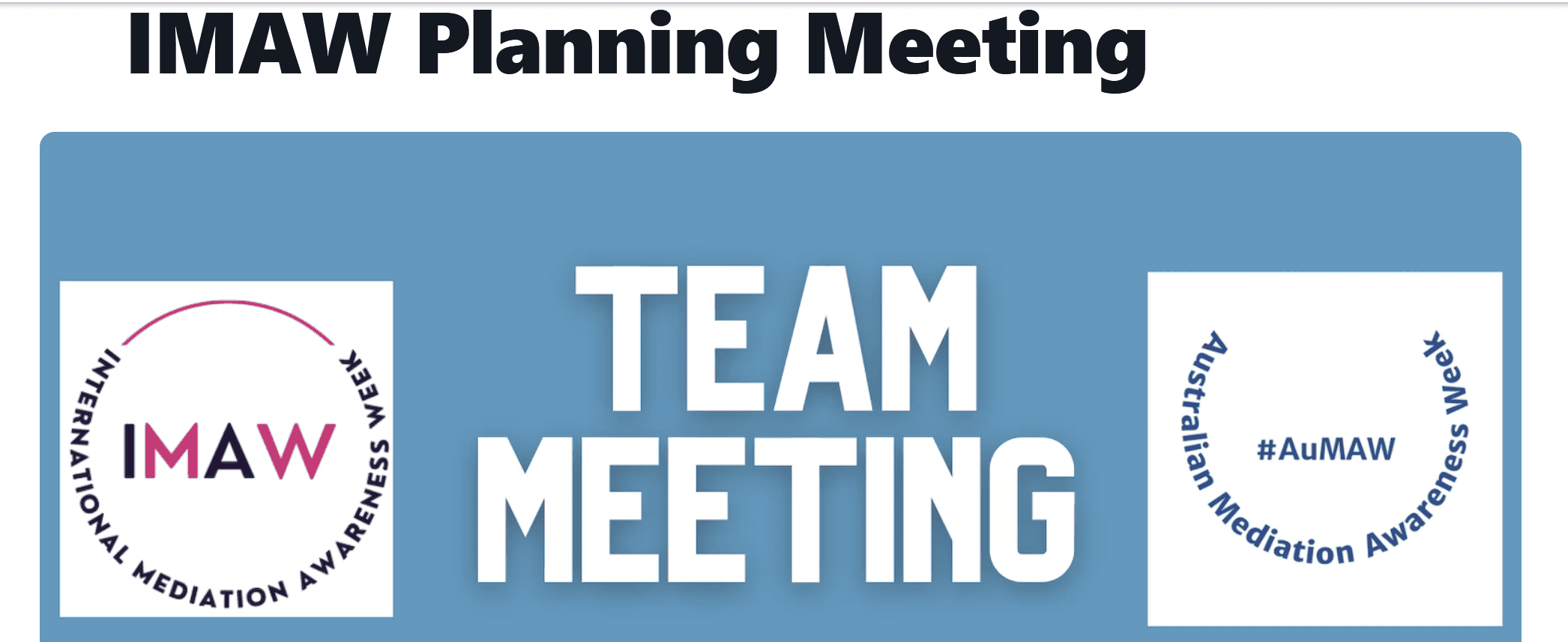 This is a working group meeting for 2022 IMAW in Australia.
The goal is to support speakers, lock in the program, and contribute information to the global team for marketing.
We'd like to offer some preliminary events in October which hopefully will be scheduled by this time.
…………………………….
We already have some fantastic keynote speakers locked in but have opportunities for mock mediations (role play demos), webinars and networking, meet the mediator and of course, the Breakfast Networking for mediators.
This year the days are themed so that we can focus on attracting non-mediators to the day targeted to them.
Monday 7th November – Mediation in the Education Sector – Keynote Peter Johnston, who with his team is transforming conflict in the QLD school system.  We need other presenters with workshops that will be relevant for people in the education sector (also relevant for workplace mediation)
Tuesday 8th November – Mediation in the Workplace and Community – Keynote James Francis talking about the dispute resolution program in the Department of Defence. We need some strong presentations regarding other communities and dispute resolution programs to complement and fill out the day.
Wednesday 9th November – Mediation in Family Law – Keynote Speaker Fiona Kirkman from FamilyProperty focusing on mediation and innovation in Family Law.  We need other strong workshop presentations related to the family law theme for the day.
Thursday 10th November – Lawyers and Mediators. This day is focused on increasing lawyers understanding of how to support mediation and the range of mediation options their clients can engage in.  Keynote Speaker – Bill Eddy. We need other strong speakers that will be relevant to lawyers in the audience. Fiona's team at FamilyProperty will be doing a Lawyer Inclusive Mock Mediation on Thursday.
Friday 11th November – At this stage, we're thinking of a theme around Health, Aged Care and Disability Care and Mediation but don't have a Keynote. Need ideas!
Come to the meeting if you can but also you can use the comments in this meeting to let the team know you want to be involved.
You can use the suggest an event on the www.imaw.org website to nominate yourself or someone else to present.
Remember the purpose of IMAW is to promote the use of mediation in every sector so while it will be of interest to mediators we are really aiming to attract the attention of non-mediators with keynotes and workshops that provide road maps, case studies, demonstrations and practical tips for reducing disputes and turning conflict into improvement.
A supporter rather than a presenter?
We have lots of behind the scenes volunteer roles so if you want to help the mediation industry grow get involved in a way that makes sense to you.
Related Events