Mediation Institute is happy to promote events run by other organisations that may be valuable to Mediation Institute Members.
Don't hesitate to contact us about your events (Mi Member discounts for paid events are encouraged).
This is a free service for Mediation Institute Members or relevant free events. If you are not a member and it is a paid event, we would encourage you to offer a MI Members discount.
Facilitated Discussion in the Workplace September / October 2020 Series
24/09/2020 @ 12:30 pm

-

1:15 pm

AEST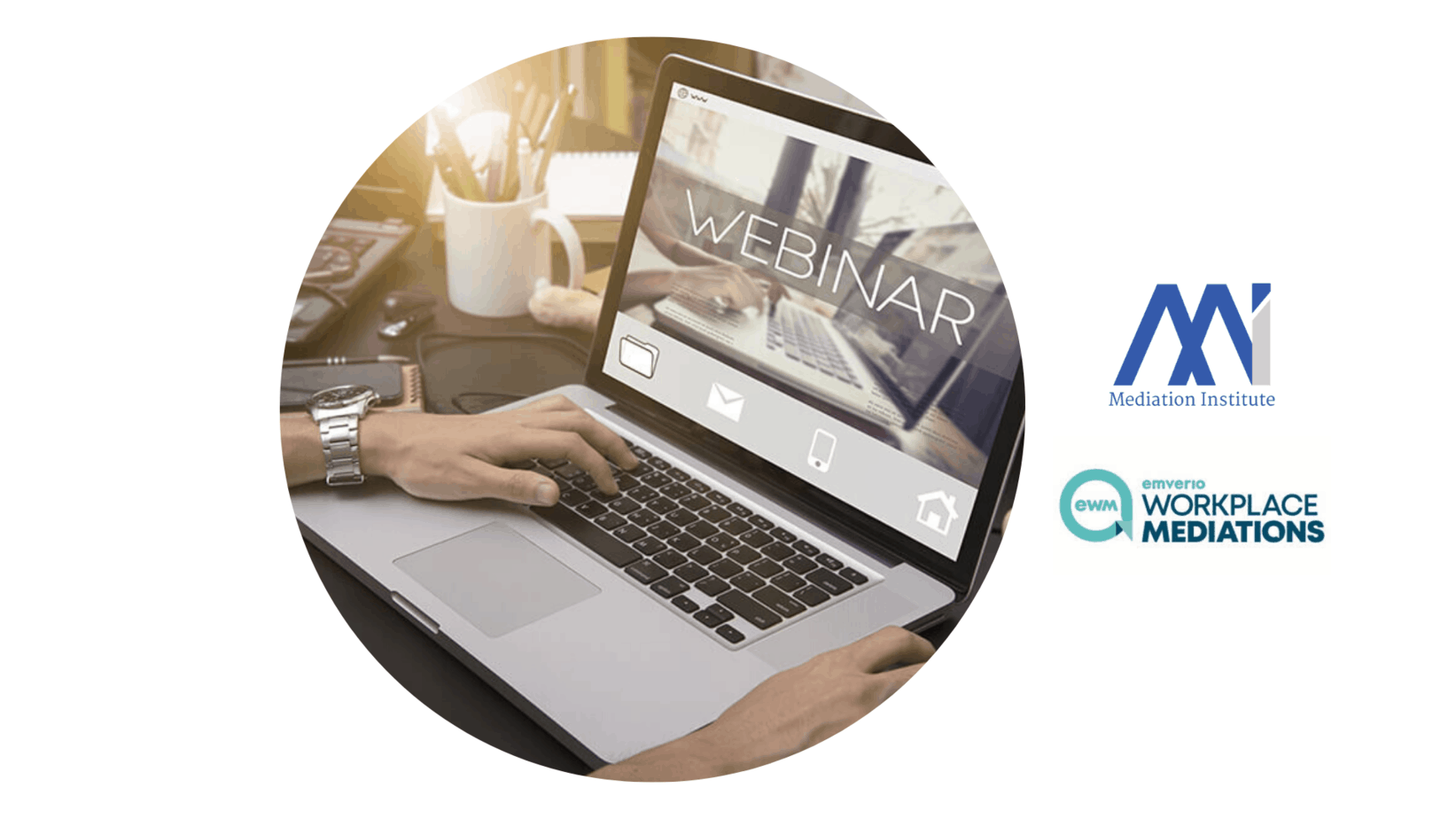 This series of webinars is delivered as part of the Facilitated Discussion Course but members are welcome to register to attend.
Register for the webinar here – https://zoom.us/webinar/register/WN_m1OUB_RZQhK4ecePA7svCw
Session 1 – Workplace Dispute Resolution: The Model and Intakes / Pre-Mediation Sessions  24th September 2020

In this session we introduce you to our effective workplace dispute resolution model and the concept of intakes or pre-mediation sessions.  You will receive a copy of the model and a pre-mediation session checklist.  It clearly summarises all the steps you need to review with each participant, how to prepare them for the facilitated discussion, and how to set yourself and the parties up for a successful outcome.  We will cover what to do if one or more of the participants doesn't want to proceed to a joint session. And, we will look at a template pre-mediation agreement used if you are an accredited mediator. If you will be providing facilitated discussion it is ideal if you can review the model and prepare / conduct an intake session, either real or role-played, prior to the next session.  We will also cover the potentially tricky issue of support people and you will receive an information sheet template on support people that you can adapt to suit your organisation's policies and protocols.
Session 2 – Workplace Dispute Resolution: Joint Session – Opening Statements and Agenda Setting  1st October 2020

In this session we will work on setting up your facilitated discussion / mediation environment. That includes what your room should look like, the resources you need and preparation of the facilitators opening statements.  We will practise our micro-skills on listening and summarising / feeding back the participants' opening statements.  You will hear a live example of an opening statement (role-played by an experienced mediator).  You will be given a template of an opening statement and facilitated discussion / mediation requirements to adapt and prepare your own to use, and also some sample agendas. We will cover three micro-skills: listening, summarising and clarifying to assist the participants to create an Agenda.
Session 3 – Workplace Dispute Resolution: Joint Session – Exploration and Private Sessions 8th October 2020

In this session we will build upon the previous two sessions.  With our now prepared agendas we will start the best part of facilitated discussion / mediation – 'exploration'.  We love this phase of the process!  This is where you work with the parties to engage them, mutualise any items, clarify dissent and provide them with an opportunity to acknowledge and sit within their different versions.  We practise here the micro-skills: mutualising, silence, re-framing and clarifying questions.  We also introduce you to suspension.  This vital skill requires you to suspend your own thoughts, opinions and judgements and focus on the participants.  Mastering this will make you an exceptional facilitator or mediator.  In addition, we explore private sessions, and how to use them.  We look at how we can test participants' positions in those private sessions and move them to define their underlying interests.
Session 4 – Workplace Dispute Resolution: Joint Session – Option Generation and Agreements 15th October 2020

Again building on the previous sessions, we look at the next stages of the workplace facilitated discussion / mediation model.  If you have successfully completed the above stages well, the participants should be ready to start generating options and ideas about how to move forward.  We look at how we work with the participants to create commitments about moving forward, we look at how to capture those mutual commitments and craft realistic agreements.  In this session we will review what facilitated agreements look like, how to process agreements which have been achieved, and what to do if you don't reach agreements.
Session 5 – Workplace Dispute Resolution: Post Session Strategies and Review 22nd October 2020

In this final session we will come full circle and revisit our intake sessions.  Our deeper understanding of the process by now will reveal why effective intake is so important and crucial to achieving successful workplace dispute resolution.  We will look at the documents you need to have, whether the facilitated discussion or mediation is formal or informal.  We cover how to keep the parties accountable to their agreements, and the different ways that even well-conducted facilitated discussions or mediations can fail.  Finally, we will look at our favourite post-session strategies and how we can all keep in touch to support each other and continue to build our valuable dispute resolution skills in the future.
https://zoom.us/webinar/register/WN_m1OUB_RZQhK4ecePA7svCw
Related Events