Mediation Institute is happy to promote events run by other organisations that may be valuable to Mediation Institute Members.
Don't hesitate to contact us about your events (Mi Member discounts for paid events are encouraged).
This is a free service for Mediation Institute Members or relevant free events. If you are not a member and it is a paid event, we would encourage you to offer a MI Members discount.
Attract More Clients by Speaking on Virtual Stages
29 March @ 8:00 am

-

5:00 pm

AEDT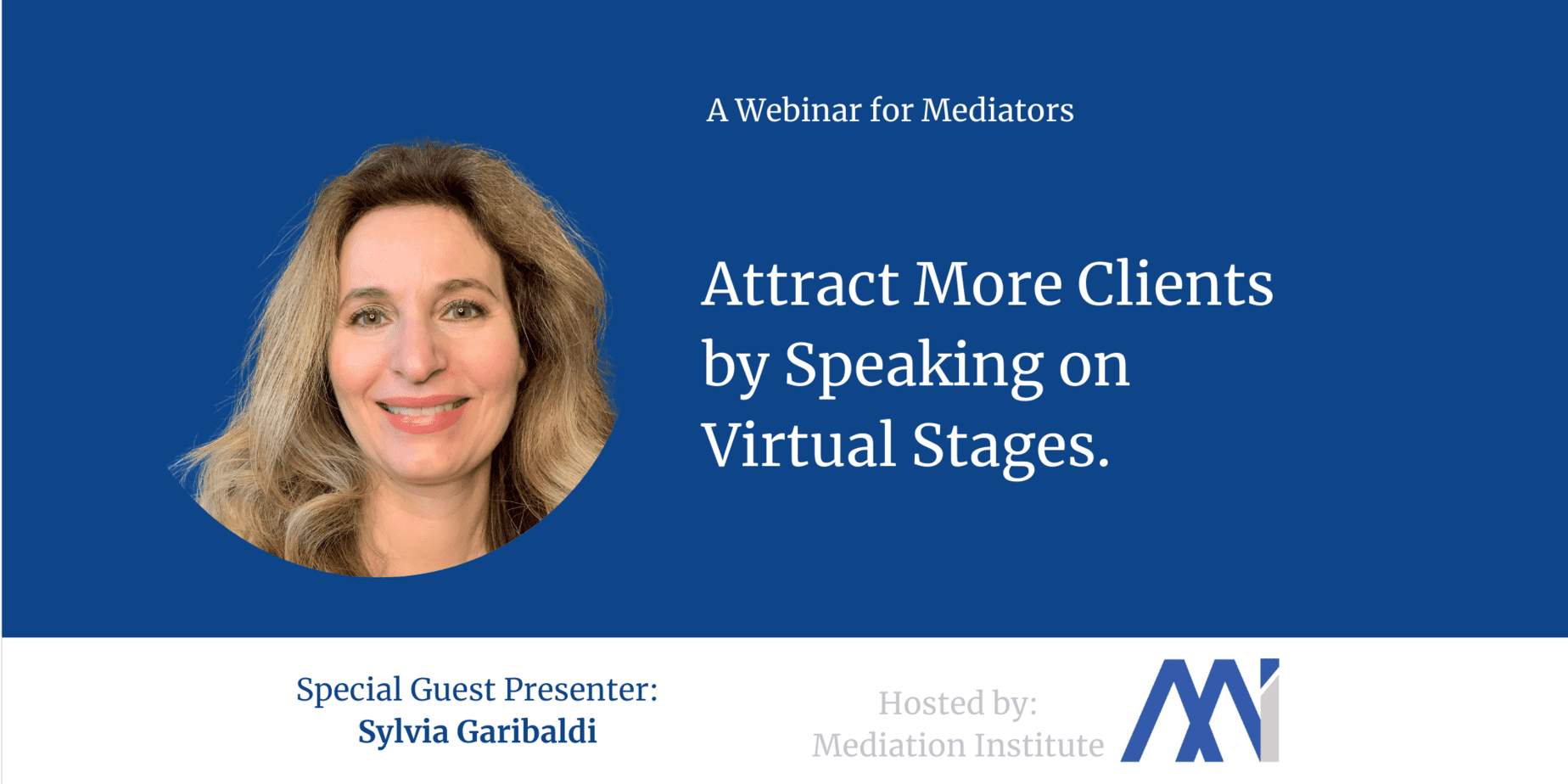 Grow your mediation practice fast and professionally
About this event
Mediation Institute is delighted to host a practice development webinar facilitated by international expert, Sylvia Garibaldi.
About the Webinar
An important part of growing any mediation practice involves increasing your visibility as an expert so that your ideal clients can become aware of your services and want to do business with you.
During this masterclass, we will teach you the simplest and fastest method to speak online that will allow you to connect with your audience and bring in new clients.
Sylvia will teach you how to:
Increase your revenue by using a step-by-step process to get easily booked as an online speaker to spread your message to hundreds of qualified prospects (without leaving your desk!).
Create a talk that attracts your ideal market and gets them to book a meeting with you.
Learn how to increase your visibility and easily connect with your audience without having to be an experienced speaker.
Elevate your expert status as a mediator while growing your audience organically by using social media platforms and other online methods.
This approach is very congruent with our professional ethics and need to establish ourselves as individuals rather than generic providers of dispute resolution services.
About our Presenter
Sylvia Garibaldi, CEO and Founder of SG and Associates is a business strategist and speaker who helps serviced-based entrepreneurs around the world to grow their business to 6 figures and beyond, in a way that is aligned and authentic to them.
She is the creator of the Serve First, Sell-to-Many Program that have helped many of her clients achieve outstanding results.
Over the course of 14 years, Sylvia has helped hundreds of financial, legal, mediation and divorce professionals to grow their business and become leading experts in their field through results-driven marketing.
Sylvia is a featured expert and speaker in leading publications and professional associations across the globe. You can find out more about Sylvia and follow her with her on LinkedIn https://www.linkedin.com/in/sylviagaribaldi/
Related Events