Mediation Institute is happy to promote events run by other organisations that may be valuable to Mediation Institute Members.
Don't hesitate to contact us about your events (Mi Member discounts for paid events are encouraged).
This is a free service for Mediation Institute Members or relevant free events. If you are not a member and it is a paid event, we would encourage you to offer a MI Members discount.
Annual Conference Lets hear it for the kids: Challenges and the way forward in Family Law
07/07/2022 @ 9:00 am

-

09/07/2022 @ 5:00 pm

AEST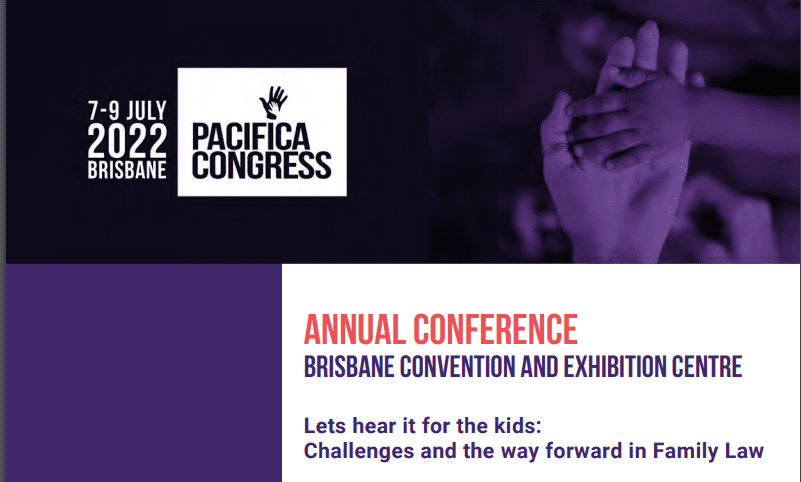 Annual Conference
Lets hear it for the kids:
Challenges and the way forward in Family Law
Brisbane 7 to 9 July
Our annual conference is gearing up to be something very special; the focus will be on the children and the way forward in family law. We have a sensational program, featuring celebrated speakers and cutting-edge topics.
In addition to a wonderful program, we have a social calendar with some exciting extras.
We will launch Pacifica Congress and the opening of the conference at 6 pm on 7 July 2022. Don't miss the free drinks and chance to hear about what Pacifica Congress is and the plans for the future.
As always we have social drinks and networking at the end of each day of the conference, but we have invited a local children's choir, Queensland Young Voices, to sing and entertain us and the Wolves Theatre Company will perform a play, Marooned, that will poignantly touch on some deep issues and leave you talking.
Professor Martine Powell from Griffiths University and the Centre for Investigative Excellence will present a workshop 'Best practice investigative interviewing of children and young people' and the short film 'How to be a Good Questioner of Children' can be seen throughout the conference.
Related Events