Mediation Institute is happy to promote events run by other organisations that may be valuable to Mediation Institute Members.
Don't hesitate to contact us about your events (Mi Member discounts for paid events are encouraged).
This is a free service for Mediation Institute Members or relevant free events. If you are not a member and it is a paid event, we would encourage you to offer a MI Members discount.
Accessible Communication for Professionals
28/04/2022 @ 11:00 am

-

12:00 pm

AEST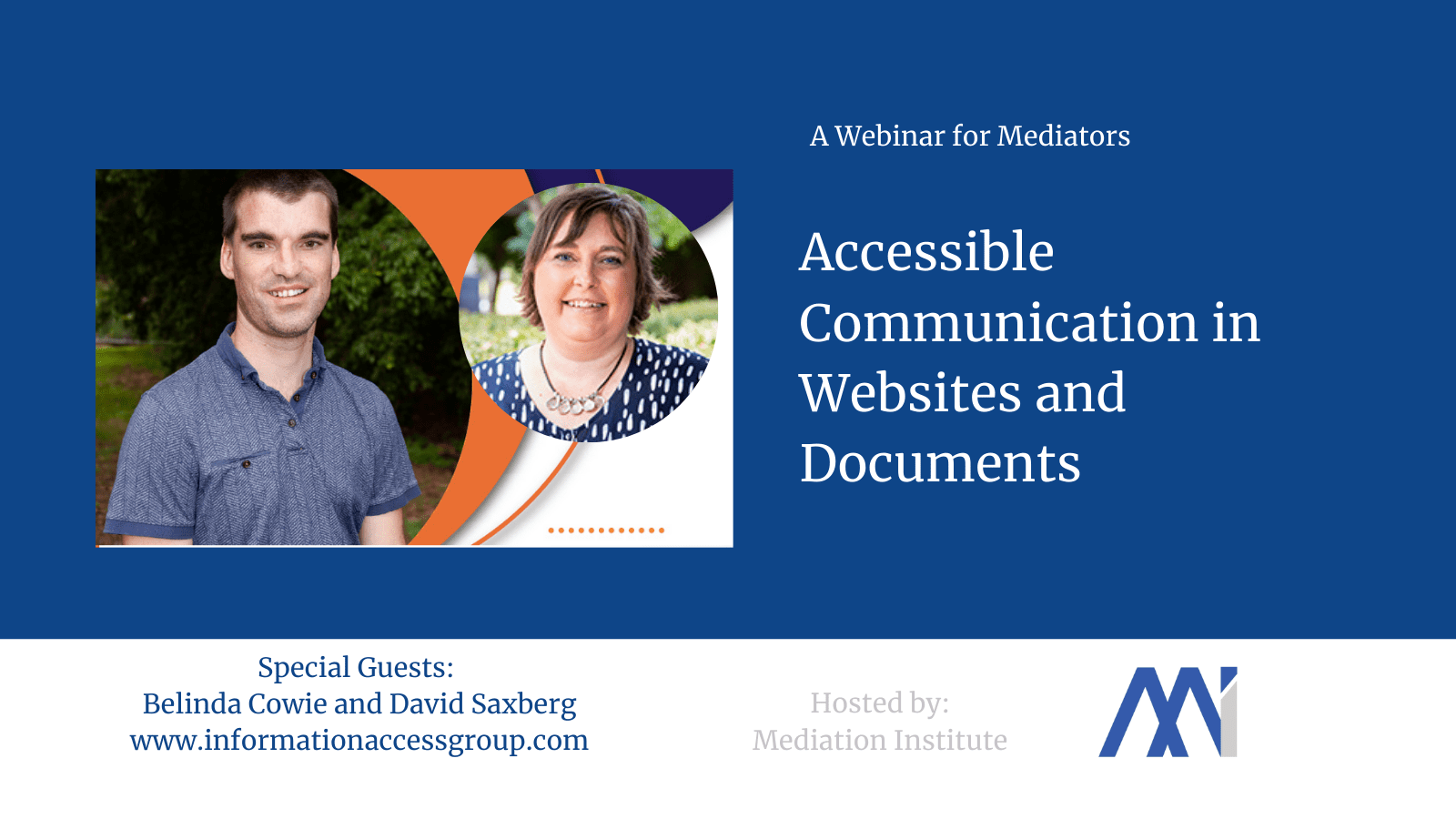 Eventbrite Registration Link – https://www.eventbrite.com.au/e/accessible-communication-for-professionals-tickets-309107517907 or you can RSVP on the Mi Network for Mediators. https://network.mediationinstitute.edu.au
Are your written communications and websites meeting the needs of the 18% of Australians who have a disability and the 44% of Australians who have low literacy skills?
We are delighted to be hosting a webinar with Belinda Cowie and David Saxberg from the Information Access Group. www.informationaccessgroup.com
In this webinar, Belinda and David will share their insights into accessible communication strategies for both websites and documents.
The presentation will include:
How accessible is your website?

What about your documents?

Are you meeting your obligations as a mediator to provide specific information if a client can't access it?
In the webinar, our guests will share with you information about easy read / plain language communications and how to improve the accessibility of documents and websites.
More about our Presenters
Belinda Cowie – Marketing Manager Information Access Group
Belinda helps the Information Access Group to engage effectively with new and existing clients. She is a marketing and communications professional with experience in corporate, not-for-profit and local government organisations including recently as the CEO of the I Matter Foundation.
"Accessible information benefits the whole community. When we share information in a clear and respectful way, more people can understand the message. That means more people can contribute their skills, knowledge and experiences. When this happens, everybody wins." Belinda Cowie
David Saxberg – Inclusion Advisor
David helps the Information Access Group to spread their message of accessibility and inclusion. He is a communications professional with a range of experiences in government, business and radio. He helps build new relationships with Government Departments, local councils, the private sector, and disability / community organisations across Australia. As a screen reader user, David has extensive experience testing websites and online information for accessibility and usability.
"As a screen reader user, I often find websites difficult to use. I enjoy working with the Information Access Group to help identify problems and suggest fixes so that everyone can have a better experience online. And, until I started working here, I never understood how difficult it is to create an Easy Read version of a document. Easy Read documents are so much clearer and easier to understand. It's definitely worth the effort." David Saxberg
Related Events