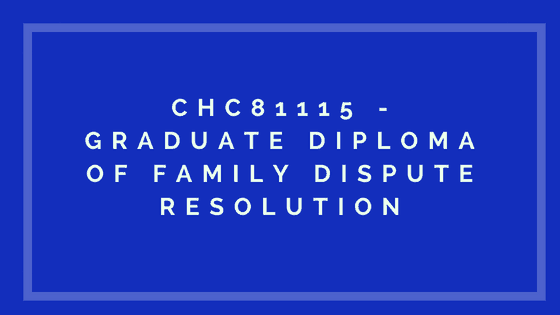 CHC81115 Graduate Diploma of Family Dispute Resolution
Overview
The CHC81115 – Graduate Diploma of Family Dispute Resolution provides the skills and knowledge you need to facilitate mediation for couples and families as they go through separation and divorce. You will be helping them to reach parenting agreements, property settlements and to resolve their co-parent and wider family relationship issues.
This course provides in-depth learning on family violence and conflict, it's effect on children and the family law environment for separating couples.
This qualification provides the training you will need to fulfill the role of family dispute resolution practitioner (FDRP). When accredited you will provide mediation services and interventions for families who need assistance with parenting agreements and property settlements as well as those who are experiencing high levels of relationship conflict and may be involved in the family law system.
Graduates accredit with the Attorney Generals Department and then go on to work independently, as a contractor or employee of a FDR Service.
The legal and ethical obligations of Family Dispute Resolution practitioners under the Family Law Act 1975 and the Family Law (Family Dispute Resolution Practitioners) Regulations 2008 are part of the course curriculum.
On completion of the qualification, graduates can apply for registration with the Attorney General's Department to practice as FDRPs under the Family Law Act 1975. Once registered with The Attorney General's Department, graduates can also apply for accreditation under the National Mediator Accreditation Standards (NMAS) by applying to Mediation Institute, a Recognised Mediator Accreditation Body (RMAB).
Mediation Institute will deliver this qualification in partnership with RTO Inspiritive.
Participation
This qualification is delivered fully online or with the option of blended learning, combining online learning with face to face sessions in Brisbane, Melbourne or Perth. A Supervised work placement is mandatory.
Duration
Approximately 50 weeks online learning and a 50-hour compulsory work placement which may commence as soon as you are assessed as competent in simulation for each skillset.
Point of Difference: This course duration is an estimate only. Students can complete the course at your own pace. We expect the majority to complete in significantly less than 50 weeks and you have up to 24 months to complete your studies if life gets in your way.
Employment Opportunities
Upon successful completion of this qualification, graduates may gain employment in Community Services Sector roles including:
Family Dispute Resolution Practitioner (FDRP)
NMAS Accredited Mediator
Manager of an Alternative Dispute Resolution Service (with sufficient experience in management competencies)
Units of Competency
This qualification is made up of 10 units of competency (6 core units and 4 elective units)
Core Units
| | |
| --- | --- |
| Code | Unit Title |
| CHCFAM001 | Operate in a family law environment |
| CHCDSP001 | Facilitate dispute resolution in the family law context |
| CHCDSP002 | Adhere to ethical standards in family dispute resolution |
| CHCDSP003 | Support the safety of vulnerable parties in family dispute resolution |
| CHCDFV008 | Manage responses to domestic and family violence in family work |
| CHCFAM002 | Work with a child focused approach |
Students can complete the core units only option in order to accredit with the Attorney Generals Department however the electives provide valuable additional training in working with high conflict families.
Elective Units
| | |
| --- | --- |
| Code | Unit |
| CHCPRP007 | Work within a clinical supervision framework |
| CHCDFV012 | Make safety plans with people who have been subjected to domestic and family violence |
| CHCDFV007 | Work with users of violence to effect change |
| CHCFAM007 | Assist clients to develop parenting arrangements |
Entry Requirements
Entry to this qualification is open to individuals who have one or more of the following qualifications or experience:
Have an undergraduate degree or higher qualification in psychology, social work, law, conflict management, dispute resolution, family law mediation or equivalent
Have the mediation skill set from the Community Services (CHC) Training Package
Are a NMAS Accredited Mediator
Can provide documented evidence of previous experience in a dispute resolution environment, in a job role involving the self-directed application of knowledge, exercise of independent judgement and decision-making, and a range of technical and other skills.
Technological Requirements
This course is delivered online with a significant component of Video Role Play practice. To participate in this course you will need:
A computer or laptop with a reliable internet connection (sufficient for video meetings)
A fast and secure web browser
A web camera and head set – a web camera is standard on laptops and able to be plugged into a computer
If you have any doubts about your technology book in for a video meeting with our team to test your set up.
Contact the office on office@medaitioninstitute.edu.au with a suggestion as to suitable meeting times.
Mandatory Work Placement
You have the opportunity of a minimum of 50 hours work placement with this qualification.
Point of Difference: Mediation Institute does not short change your learning by counting simulations or workshops as being client work.
With Mediation Institute you will have real work experience with real clients including taking enquiries, following up with real clients during and after family dispute resolution, undertaking safety planning, providing post separation parenting coaching (New Ways for Families Course Coaching) and of course, co-mediating in Family Dispute Resolution.
During your work placement, you will work with a minimum of five families with family dispute issues including the need for parenting plans, property settlements and the resolution of specific issues.
Point of Difference: All client work will be under the direct or indirect supervision of an accredited FDRP and will include Video Mediation and phone contact with clients.
Your work placement is part of the learning program and captures a range of evidence to support a decision of competency. Students and supervisors are provided with a comprehensive work placement guide and structured supervision program to support positive supervision and effective learning.
If any required evidence is not available in the workplace due to the mix of your clients following the work placement additional simulations or assessment may be required. The learning plan identifies the specific tasks you need to complete during your work placement.
Training Methods
Online learning – reading course material and supplementary material
Webinars and watching recorded webinars if you are unable to participate live
Access to the New Ways for Families – Parenting after Separation Course
Use of the Family DOORS risk screening tool
Incorporating content from the AVERT Family Violence program
Research projects as part of your supervision unit (elective)
Forum and web meeting discussions
Role plays and simulations (Video Role Plays and face to face if you attend a workshop)
On the job learning during your work placement
Assessment methods
Knowledge questions
Activities (Activities, Projects and Case Studies)
Role Play and Simulation Observations
Work place observations – third party supervisor reports
Co-assessment discussion between your workplace supervisor and course assessor (unless your supervisor is a qualified assessor)
Point of Difference: Students will be allocated as "clients" and taken through the whole FDR process from first contact to developing a parenting plan in simulation and then have the opportunity to do the same process with simulated "clients" as the FDR. Real, experiential simulations not unrealistic role plays.
As a guide we recommend that you allow a minimum of 8 hours a week for your studies – 3 hours for role plays and other interactive activities and 5 hours for coursework, reading and completing assessments.
Work Placement
Point of Different: Mediation Institute arranges work placement for students with Interact Support. interact.support and ongoing contract work with Interact Support is available once qualified.
Recognition of Prior Learning
You may be eligible for recognition of prior learning for this qualification. Please see our RPL Kit for more details.
NMAS Accreditation as a Mediator
Mediation Institute is a Recognised Mediator Accreditation Body (RMAB) under the Australian National Mediator Accreditation System (NMAS). This course meets the threshold training, education and assessment requirements as set out in the NMAS. those requirements.
Cost
If you need Mediation Institute's assistance with your work placement the course fee is:
Full Qualification (10 Units) with Mediation Institute providing the work placement – $11,900
Core units only (6 units) with Mediation Institute providing the work placement – $8,900
If you DO NOT need Mediation Institute's assistance with your work placement the course fee is:
Full Qualification (10 Units) without Mediation Institute providing the work placement – $8,900
Core units only (6 units) without Mediation Institute providing the work placement – $6,900
Enrollments and Further Information
We commenced enrollment in February 2018 and you will be able to join the course up until the end of November 2018. We take a two-month break from enrollments over December and January. Don't miss out on joining the Class of 2018. 
https://www.mediationinstitute.edu.au/chc81115-graduate-diploma-of-family-dispute-resolution-enrolment-form/