What is a mediation role play?
What is a mediation role play?
What is a mediation role play?  We answer this question in this blog post because it can be really hard for students to know what is and isn't an acceptable standard when it comes to their studies. This is especially true when the are leaning something that requires practical skills development and competency based assessment.
When it comes to Mediation Training the standards are very clear. This post is intended to make sure that anyone considering a provider for NMAS Accreditation Training or the Mediation Skill Set are very clear about what the standards are and what you are buying.
Mediation Skill Set
We've just had someone swap to Mediation Institute for the NMAS course from another provider who has been supposedly training her for months in the mediation skill set. I say supposedly because she had not done any live interactive role plays that she was able to claim as credits towards her course with Mediation Institute.
The Mediation Skill Set is a skill set under the Vocational Education and Training framework. It is part of the certificate IV in Community Services qualification. Mediation Institute has the capacity to train the skill set through our partnership with Inspiritive but we can't economically do so in comparison with the NMAS Accreditation Course.
That is because the assessment requirements are higher than for NMAS standards requiring evidence of having worked with five mediations (simulated role plays is fine). The requirements for NMAS is only three as the mediator plus the assessment.
We are aware that some RTO providers are offering this Skill Set at a very low fee in order to provide their students with a pre-requisite qualification to the CHC81115 – Graduate Diploma of Family Dispute Resolution qualification. We caution students to do their due diligence.
You would expect that all VET training is to the required standard but unfortunately despite the many problems with quality in the industry the regulator of Vocational Training and Education still does not always protect students from sub-standard training.
We strongly encourage any student considering VET training to read the qualification requirements. Training.gov.au is a joint initiative of the Australian and State and Territory Governments and is designed to make publicly visible the requirements for training in all Vocational Qualifications.
The CHCSS00110 – Mediation Skill Set is made up of three units of competence. It is targeted at Certificate IV level. In order to find out what the assessment requirements are you will have to go to the individual units to know what content should be in the course and also the assessment requirements.
There must be evidence that the candidate has facilitated at least 5 different mediations with clients with varying circumstances and types of dispute, with at least 1 co-mediation.
Here is a link to one of the units quoted above – Training Details CHCMED002
One of the other units requires practice role plays of the pre-mediation process.
This can be done in simulation (role plays) but must cover all the requirements of the unit so you'd expect about 90 minutes would be a minimum requirement for the mediation role plays in order to demonstrate all of the assessable skills.
There would also be the need for practice role plays as a role player as well as part of the learning process.
Mediator Musings Podcast
Sally's vast knowledge of marketing, networking & efficiency makes her the perfect person to help organisations grow. Using proven techniques to increase sales, leverage resources, build connections, and manage time effectively both on and offline!
Read More »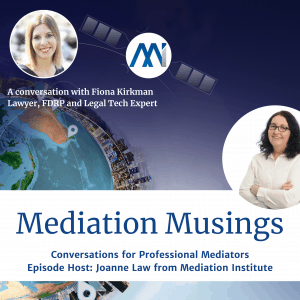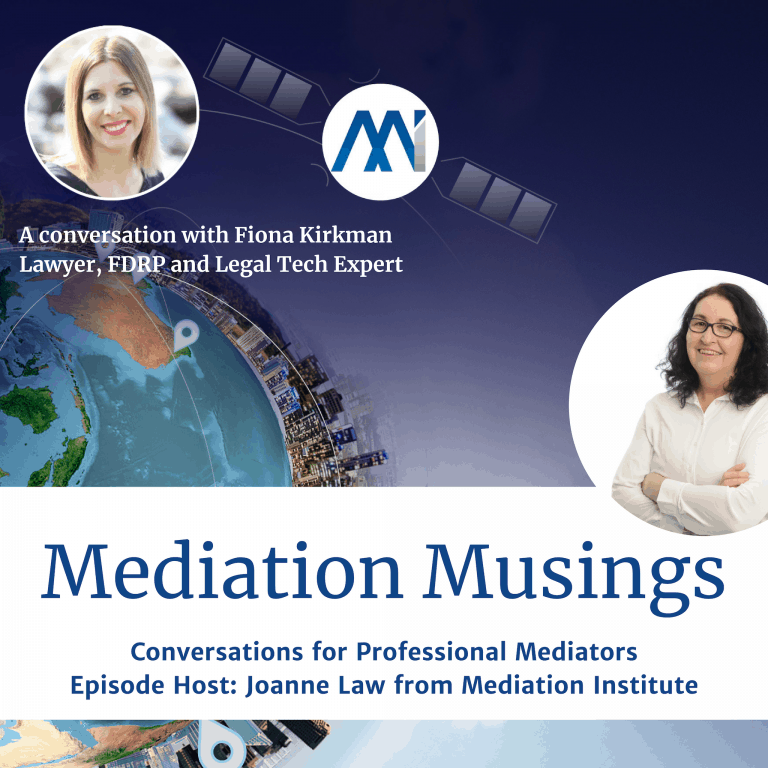 Mediator Musings Podcast
A Mediator Musings Conversation with Fiona Kirkman. FDRP, lawyer and Legal Tech expert.
Read More »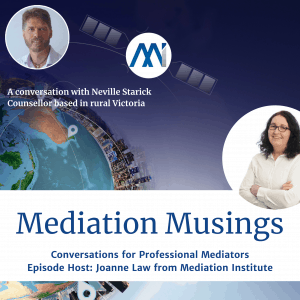 Mediator Musings Podcast
This Mediator Musings episode is a conversation with Neville Starick Counsellor talking.
Read More »
NMAS Accreditation
National Mediator Accreditation is actually not a VET qualification. It is offered under a voluntary industry standard established by the Mediators Standards Board (www.msb.org.au)
The Standards for NMAS Accreditation Courses require the student to participate in 9 role plays (a minimum of three as the mediator).
From the point of view of the training provider there isn't a lot of cost in people being role players. We really only need to count the number of role plays with mentoring / feedback required when we are determining our delivery costs.
The course is either delivered as a workshop or series of workshops or online.
Some workshop trainers do wandering feedback during the early role plays but the best ratio of trainers to students is one to three.
Some training providers get students do recorded role plays at home with friends and relatives or other students online for later feedback.
We think that is poor instructional design. We usually offer our course fully online although sometimes offer blended delivery or role play days.
We really like doing online video role plays because it is easy to record the role play so the student can review themselves against the feedback and pick up some of the areas for improvement in a way that overcomes their cognitive resistance. I've often provided feedback to a student only to have them not really believe that they did or didn't do something. That is understandable as in the moment it is hard to distinguish between what you intended to do and what you actually did. Recording the video role play is the trainers best friend in this regard and really helps students with calibrating and improving their skills.
We think that all of the role plays are important so we want to be providing live coaching for every one.
Allowing students to do role play and then only giving feedback later to one student was something we used to do when we initially started training. We quickly discovered that it isn't a good idea and now provide live mentoring and feedback. We found that we got "thought viruses" where one student would do something that looked OK to the others but was inappropriate. Then the students who were role players would incorporate that, wrong but OK looking, thing and also make the mistake spreading it to other role players.
The other problem with delayed marking of role play is that they take as long or longer than the role play itself (90 minutes) and that is a big chunk of time to find in a day to do a review. It is really easy to get a backlog of videoed role play marking if you are not doing live assessment so students wait days or even weeks for feedback.
Making the right choice requires asking the right questions
Mediation facilitation is a unique skill and because it is a skill it requires practice to learn. That's the bottom line when it comes to learning mediation. If you are just reading theory and discussing concepts you will not learn to facilitate mediation.
Just because you are a counsellor, lawyer, psychologist, manager or whatever other roles you've done, it doesn't make you a competent mediator.
Facilitating mediation is a unique skill set. It is difficult to facilitate communication between people in conflict, assisting those who are less articulate to share their needs and interests and helping those who are more dominate to listen and take onboard other peoples needs in order to get a sustainable resolution. Helping people to negotiate while at the same time remaining impartial and avoiding biasing the process through your action or inaction is a really valuable and increasing in demand skill set but knowing what to do in theory isn't the same thing as being able to do it.
I have successfully trained hundreds of people and know just how hard it is to unlearn advocacy and counselling skills enough to use similar techniques in a new way in the mediation context.
If a training provider is offering to reduce the number of role plays or train you to be a mediator without role plays you need to be aware that the training doesn't comply with NMAS or VET standards.Unless they are offering a low cost awareness program it is not worth doing in an industry where there are standards requiring competence through role plays.
Upcoming Events
23 March @ 9:30 am
-
5:00 pm
AEDT
25 March @ 9:00 am
-
26 March @ 5:00 pm
AEDT
25 March @ 1:00 pm
-
2:00 pm
AEDT
New Student Feedback
I mentioned that this article was triggered by conversations with a new student. The original enquiry was for our NMAS Assessment service but although she'd been on their course for almost six months she didn't have evidence of any role plays at all. There were none that she'd done as a role player and the one that she'd done with her family members was still waiting on feedback so nothing to show for it in order to get credits towards her NMAS course and certainly not eligible for assessment against the NMAS Standards.
This is what she shared with us.
Thank you for your time over the phone and for registering me in your Mediator Training. I appreciate your insights and approach. I have since had a call back from [the other training provider – name removed] who have said they could complete my role play, assessment and accreditation in time – however I am no longer comfortable that the quality of their course is at the level it should be, and would prefer to re-do the course through you and do the full role plays properly and live, not video recorded with friends and submitted for their later review!!
My motivation is to become a great mediator, not just to check the boxes and short cut to accreditation, so I see the value in doing things properly through you and am happy to now be trained by the Mediation Institute!
I was really surprised when she called back wanting to enroll after I'd had to tell her that we could not offer her the opportunity to be assessed for NMAS as her training was non-compliant.
I felt really bad doing it considering the amount of time and money she'd wasted on a course that wasn't doing what it should have done and certainly wasn't trying to sell her on our course.
The feedback after the first Mediation Institute role play she did with us was.
All going really well thanks. The role play yesterday was great – such a good learning experience. I see why you can't give accreditation for the [other training provider] course now – chalk & cheese! I learnt more in that one mediation & debrief from Ken than I did in their whole course
We established Mediation Institute to provide flexible, accessible, quality training for people who want to be dispute resolution professionals. I'm not saying that Mediation Institute is the only reputable provider of mediation training. There are some other very good providers of this type of training but if you are interested in becoming a great mediator then you need to ask questions about how the training is delivered, the number of role plays that you will be doing, how they will occur and how your skills will be developed and assessed.
If they don't know or can't satisfy you that there is appropriate support available keep looking for a provider. If your instincts are telling you that you're talking to a sales person who'll tell you whatever you want to hear, ask for it in writing. Of course we'd be delighted to provide the training for you and are more than happy to answer any questions you have about mediation or the industry –  Mediation Institute NMAS Training and Accreditation Course.
You can see from our calendar we definitely have role plays going on and if you have any doubts about the use of video mediation get in touch and we'll allow you to come along to one of the role plays as an observer. Mi Events Calendar